In the past administrative support was thought of in the form of the secretary that came to your office, sat behind a desk, typed, answered the phone and performed other related tasks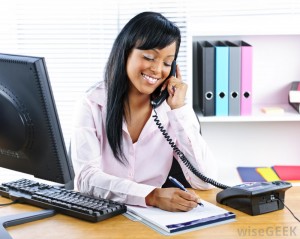 that fit the needs of your business.  Sometimes you were able to get good support and other times not.  You had to spend time training the support person and sometimes finding tasks to keep them busy.  You still had to pay them whether they were busy or not.
Today, that individual who handles your administrative, clerical and creative work doesn't have to be in your office. Thanks to technology, a Virtual Administrator (VA) can work from her own home office and provide support to you as well as other clients.  The biggest advantage to you?  A highly trained administrator that can partner with your business to meet your needs.
Today's business owners, entrepreneurs and mobile professionals often don't have the budget, space or workload to justify full-time administrative support.  They still want and need someone to be their "right arm".  Someone who can provide prompt, reliable, professional administrative support without the need for an employee.  Someone who can get to know them and their business.  Holton Administrative Services is the solution to those needs.  Working with a Virtual Assistant is more cost effective than the having a secretary in your office.  If your business is small, you're an entrepreneur, an independent professional or you just don't have an office at all. This is where a virtual assistant makes the most sense.  Even a busy mom can take advantage of the skills a virtual assistant can provide, helping to keep schedules straight or arranging appointments.
There's are many advantages to working with a virtual administrator:
DECREASED EXPENSES - Since you pay only for the time or task that you need done, working with a virtual administrator will decrease your expenses versus having an on-site administrative assistant.  No payroll, benefits, taxes, vacation or sick pay to worry about either since a virtual administrator is an independent contractor.  See our Cost Comparison Below.
EXPERIENCE – Most virtual administrators are experienced, tech-savvy professionals with resources already in place so you don't have to worry about office space, furniture, computers and software.  Holton Administrative Services provides you with over 30 years of administrative experience including over 10 years working remotely.
RELATIONSHIPS – When working with a virtual administrator, you will develop a relationship that will allow her to get to know your business and will represent your business in a professional manner.
PRODUCTIVITY - Gain more time and energy for the work you should be doing and stop spending your valuable time doing administrative work.  A virtual administrator can help you get back the time you need to need.
Cost Comparison:   Full-time Employee vs. Virtual Assistant  (Hourly Rates are an example provided by Virtual Assistant Networking Association and more than you will be charged by Holton Administrative saving you even more money)

COST COMPARISON

Virtual
Assistant

Hourly Rate of Pay

$20.00/hr

$35.00/hr

Fringe Benefits@ 35%(Health/Dental/Life Insurance, Retirement Plans)

7.00

None

Overhead Rate@ 50%(Office Space, Equipment & Office Supply expense, UI Insurance, Worker's Compensation, Overtime Pay, Administration Costs)

$10.00

None

Total Effective Rate of Pay

$37.00

$35.00

**Hours Per Year

2,080 hrs.

480 hrs.

TOTAL Annual Labour Cost

$76,960.00

$16,800.00
Difference = $60,160.00 per year
By hiring a Virtual Assistant…
You SAVE over $60,000.00 per year!
Although the virtual assistant's hourly rate is more than the employee's rate in the first place, you save the cost of benefits and overhead that would have to be applied to the new employee's wage.  Because virtual assistant's are usually more experienced, more efficient, and better connected than the employee, you'll need to devote far less time to the project to get the same results, only 480 hours a year versus 2,080 for the new employee.
Remember, with a Virtual Assistant, you only pay for the time on task by the minute! No more paying for socializing, hour long lunches or frequent trips to the washroom.

Your employee's 8 hour day can be crunched into 3-4 hours with a Virtual Assistant.
Simply put, you should contract with a Virtual Assistant because it's more cost-effective and Virtual Assistants go above and beyond the normal assistant's duties to impact your own productivity. No task
is too big or small for a Virtual Assistant to handle. Even if you only have 1 hour of work a month for a Virtual Assistant to do, a VA can (and will) do it.
*Souce: Virtual Assistant Networking Association Cost Comparison
The Largest Global Network Online for Successful and Aspiring Virtual Assistants